We regret that this training is no longer available
Please stay tuned for future trainings and learning opportunities
For questions, please email courses@viceft.ca
---
This 12-hour workshop provides a deep engagement in the process of working through the clinical challenges of traumatic experience using Emotionally Focused Therapy.  Following the CARE model/framework this training will strengthen therapist's ability to engage emotion and process experience within the context of a client's experience, history (personal and family/intergenerational), and context. Key moments of change are explored following the EFIT process across time. Clinical demonstrations are used to explore the EFT interventions and practical exercises provide therapists with hands-on experience to guide and transform their practice.
Participants will gain experience and understanding to better:
Discuss EFT principles for conceptualizing trauma and attachment-based intervention   
Describe the four components of the CARE framework for assessment and treatment in EFT where trauma is often a focus.
Identify contextual factors that influence emotion regulation and attachment strategies. 
Practice assessment exercises that embed attachment history within social context.  
Analyze the EFIT process for establishing and deepening a working alliance.
Engage EFT practices for working with emotion and engaging context to deepen felt experience.
Review stages of racial identity development and implications for self-exploration in EFIT
Deepen self-awareness and orientation to a multidimensional approach to attachment and emotion.
Meet the Trainers...
Dr. Leanne Campbell
Leanne Campbell, Ph.D., is an international speaker, writer, trainer, and co-developer of EFT-related educational programs and materials. Most recently, she co-authored the first basic EFIT (Emotionally Focused Individual Therapy) text with Dr. Sue Johnson, A Primer for Emotionally Focused Individual Therapy (EFIT): Cultivating Fitness and Growth in Every Client (Routledge,2022), as well as a workbook for therapists training in EFT (see Furrow et al., Routledge, 2022). Known for her expertise in the areas of loss and trauma, Dr. Campbell has provided hundreds of psychological assessment reports for forensic/legal and personal injury matters being considered before various levels of Court, as well as insurance companies and bodies involved in adjudicating personal injury and other loss- and trauma-based claims. In addition to maintaining a full-time private practice, providing individual, couple and family therapy and assessment services, Dr. Campbell currently co-manages a multi-site practice comprised of twenty-five clinicians and is a site coordinator for an Emotionally Focused Individual Therapy (EFIT) outcome study.
Dr. Zemed Berhe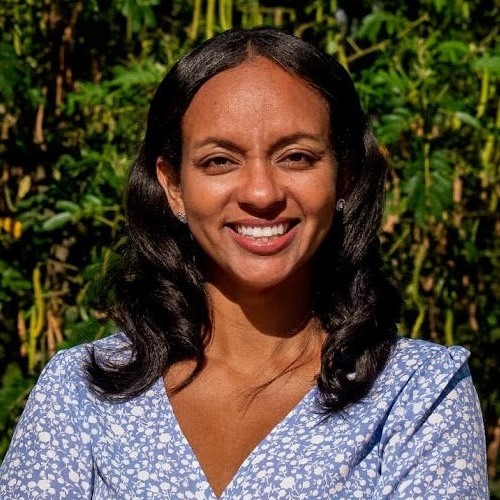 Zemed Berhe, Ph.D. is a licensed clinical psychologist and professor that currently works at San Diego State University. She earned her doctoral degree in Counseling Psychology from Seton Hall University, with a special emphasis in Multicultural Psychology. Dr. Berhe trained at the New Jersey Veterans Affairs for her pre-doctoral internship and completed her Postdoctoral Fellowship at the Veterans Affairs in Long Beach, with a specialized focus in trauma-related disorders and individuals struggling with emotional dysregulation, suicidality, and interpersonal issues. She has specialized training in trauma-focused treatments and extensive experiences in working with diverse populations, with special emphasis in addressing the mental well-being of people of African descent. Her research and clinical interests include trauma, racial/ethnic identity development, acculturation, bicultural stress, Black women's health, and addressing health disparities that continue to marginalize communities of color. As a consultant, she has provided various training workshops and presentations with different organizations and communities addressing trauma, stress/anxiety management, refugee mental health, diversity, equity and inclusion, and providing culturally competent care. Dr. Berhe continues to work within the larger EFT community and is one of the contributors for Tuning into Trauma 2.0. She is also the co-founder of the Black EFT group. She is bilingual in Tigrinya and English.
Dr. Feion Villodas
Dr. Feion Villodas is a professor in the psychology department and the Director of Graduate Student Diversity at San Diego State University. She is also a clinical psychologist and serves as a clinical supervisor for one of the top Clinical Psychology programs, the SDSU/UCSD Joint Doctoral Program in Clinical Psychology. As the Director of Graduate Student Diversity, she develops and facilitates training on diversity, equity, and inclusion for SDSU graduate students and faculty. She also supports faculty and staff engaged in hiring, diversity planning, and other diversity initiatives. Her research focuses on mental and behavioral health disparities among African-Americans and Latinx populations. She is particularly interested in acculturation, cultural competence, community-based participatory research approaches, and the adaptation and implementation of effective treatments for culturally diverse populations. Dr. Villodas also worked at VA San Diego and the University of California San Diego and VA Palo Alto. She has extensive training in multiple evidence-based treatment modalities.
Dr. James Furrow
James L Furrow, Ph.D., is an innovative leader in the development and practice of Emotionally Focused Therapy (EFT) with couples and families. His research, writing, and training guide therapists toward the effective use of emotion to transform relationships and renew resilience toward a flourishing life. His work is featured in leading professional journals and core EFT texts including:  Emotionally Focused Family Therapy and Becoming an Emotionally Focused Therapist: The Workbook. He is a clinical fellow and an approved supervisor with the American Association for Marriage and Family Therapy. 
Are Continuing Education Credits (CEs) available?

Yes! 12 CE Credits have been approved through Alliant University. CE Credits are optional and will incur an additional cost to be paid directly to the CE provider.

Are recordings available?

Yes! Recordings will be made available for up to a month following the the live training to catch up on any missed content or for you to re-watch the training. *CE Credits can only be awarded to participants that attend the entire training LIVE

Do I have to attend all sessions live?

To purchase the optional CE credits you must attend all 12 hours live. Otherwise, you may choose to view some or all of the content via the recordings.
Continuing Education (CEs)
Alliant International University is approved by the American Psychological Association to Sponsor continuing education for psychologists.
Provider approved by the California Board of Registered Nursing, Provider # CEP17538, for XXX Contact Hours.  
Those seeking CE credit under the BRN must retain this certificate for a minimum of 4 years.  
Alliant International University maintains responsibility for this program and its content.  
Have Questions?
Send us an email!